Archived Clinical Trials News
Exhibit at 17th Annual ARCS Scientific Congress
May 2008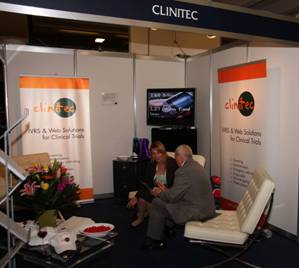 Clinitec showcased it's IVR and IWR solutions at the 17
th
Annual ARCS Scientific Congress held on 28 - 30 May at the Darling Harbour Exhibition and Conference Centre, Sydney.
The exhibit was well attended and Clinitec staff provided further information on Clinitec services such as IVRS and ePRO to over 100 delegates. IWRS demonstrations were available.
Clinitec's Barry Waller presented an overview of the new Clinitec
TM
Nano solution for clinical trials with tight budgets on the Thursday afternoon to a number of delegates at the Clinitec stand.
Katie Viviers, Clinitec General Manager, presented at the Clinical ESC sub-plenary on Climate Change.
Congratulations to our prize winners who each won a bottle of Croser Champagne:
Jane Lawson of Novartis
Julie Morrison of Roche
Ana Smeath of sanofi-aventis
---
Katie Viviers presenting ePRO Case Study at 8th Annual
E-Clinical Trials Event
May 2008
Katie Viviers will be presenting an ePRO (patient diaries) case study at the 8th Annual E-Clinical Trials Conference to be held in London this month.
The presentation will focus on selecting appropriate technologies for cost effective, compliant trials with considerations for different diseases, patient age groups and geographic location.
---
Position Available - R&D Manager
February 2008
Due to strong growth we have an opportunity for an experienced .NET Software / Database Developer to join our forward thinking team as our Research and Development Manager.
Reporting directly to the General Manager, you will be responsible for driving the development of new technologies and providing team leadership.
5+ years experience
.NET and SQL experience essential
Delphi experience preferred
Excellent communication skills
Solid understanding of the software development cycle
A proven track record in designing, implementing and managing complex systems
Team focussed and an intrinsic ability to work autonomously where required
If you have the drive to deliver and want to develop with the latest technologies then we would like to hear from you.
In addition, we are always interested in hearing from individuals skilled in the areas of programming, project management and technical writing.
For further information please email Katie Viviers (kviviers@clinitec.com.au)
---
Introducing New Business Development Executive
February 2008
We are pleased to announce that Barry Waller has been appointed as the Business Development Executive for Clinitec Pty Ltd. Barry comes to us with over 25 years of Sales/Sales Management experience within the Pharmaceutical Industry where his knowledge spans many therapeutic areas including, Cardiovascular, CNS and Antibiotics.
Barry has been a part of the pre marketing and launch of many household blockbuster Pharmaceutical products over the years and his network of connections extends both interstate and overseas.
He has worked on projects associated with research institutions such as the George & Garven Institutes NHMRC and the Baker Research institute in Melbourne.
Barry is also experienced in Business development, previously working with Cardiology diagnostic devices, data and image management systems used to report and store Medical Imaging by Interventional Cardiologists.
---
Katie Viviers appointed as Head of Clinitec Pty Ltd
May 2007
Katie comes to Clinitec with several years experience working in the Clinical area. She will work closely with our project and development teams to add functionality to ClinCall based on feedback and requests from clients. She will manage client and industry relationships to help build an understanding of our capabilities in Australia and overseas.
---
New Clinical Trials and Research Directory Launched by the Australia-New Zealand Biotech Alliance
May 2007
The Australian-New Zealand Biotech Alliance (ANZBA) is a partnership to promote leading R&D and business opportunities in the region. Working directly with industry and the research sector, the members of ANZBA are the Australian State and Territory Governments and the Government of New Zealand. The members are committed to cooperating on a diverse range of projects to ensure that the region benefits from this exciting industry as it continues to grow.
---
Clinitec becomes a member of the Queenland Clinical Trials Network (QCTN)
Mar 2007
QCTN is an independent incorporated industry association that facilitates:
Activities which provide visibility for Australia as a destination for clinical research
Clinical trials placement by linking sponsors with Queensland's clinical trials industry
Publication of the Queensland Directory of Clinical Trials and Related Services
Education, training and accreditation in conducting clinical trials consistent with national and international regulatory requirements and obligations
Activities to raise public awareness of the value of clinical trials and the rights of participants involved in clinical trials
Website:
www.qctn.com.au
---
First Phase III/IV Trial with Patient Diaries
Oct 2006
Sydney based Pharmaceutical company adopts the Clinitec IVRS system for their Phase IV trial which is setup to record daily symptom information from patients through a freecall number. Patients failing to call the service each day receive an automated reminder call. To assist in monitoring compliance a daily report is also generated advising the Sponsor of patients who have failed to record their symptoms during the previous day .
---
IVRS Study running out of New Zealand with Drug Supply Management
May 2006
A new set of Phase II studies were initiated for a New Zealand based research organisation using IVRS for Patient Randomisation in conjunction with Swift Call's newly developed Drug Supply Management capability. The Drug Supply Management system dispatches drugs to the sites on activation and using just-in-time techniques automatically re-supplies the sites following patient randomisation and on subsequent treatment visits. This approach mimimises drug manufacturing requirements during the trial and wastage at the completion of the study.
---
First Web Based Phase II Trials Active
March 2006
With the completion of the development and validation of the new Web based Patient Randomisation system Clinitec has deployed the first of its "IWRS" systems for an international study operating out of Sydney. The availability of the IWRS system was seen by the sponsor as an appropriate solution for this trial as it reduced costs and time in preparation and UAT.
---
Please note that due to privacy and contractural obligations Clinitec is unable to provide details of sponsors and trials with which we are associated.